Glossary of Botanical Terms:

pinnatisect: of simple leaves or leaflets, of the lamina cut down almost to the midrib but having the segments confluent with it. e.g. as in the ultimate segments of some fern fronds. Fig. 5 S. cf. pinnatifid.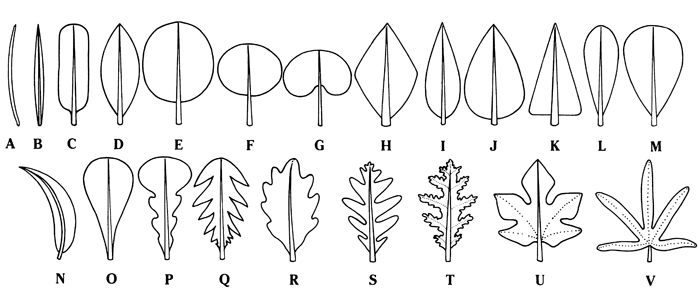 Fig. 5. Lamina Shapes. A, filiform; B, linear; C, oblong; D, elliptic; E, circular (orbiculate); F, oblate; G, reniform; H, rhombic; I, lanceolate; J, ovate; K, triangular; L, oblanceolate M, obovate; N, falcate; O, spathulate; P, lyrate; Q, runcinate; R, pinnatifid; S, pinnatisect; T, bipinnatifid; U, palmatifid; V, palmatisect.