Family Boryaceae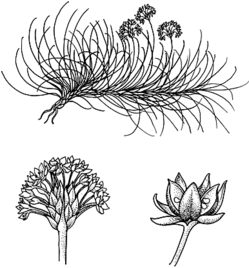 Description: Boryaceae are xeromorphic, some being resurrection plants, with aerial stems and stilt roots; the inflorescence is scapose and involucrate; the flowers are not very noticeable.
Distribution and occurrence: Endemic to Australia.

External links:
Angiosperm Phylogeny Website (Family: Boryaceae, Order: Asparagales)
Wikipedia
Formerly considered monotypic but now includes Alania as well as Borya (in WA, Vic and NT).

Text by KL Wilson (June 2013)
Taxon concept: Angiosperma Phylogeny Group III (2009)