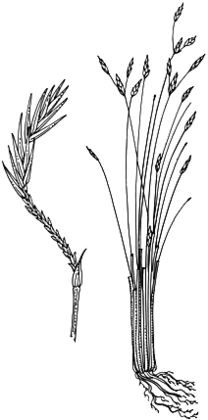 Description: Small tufted perennials, occasionally rhizomatous.
Leaves basal, about half as long as culms, or reduced to sheaths; ligule absent.
Inflorescence of 1–3(–6) sessile or pedunculate spikelets; involucral bracts usually glume-like and smaller than fertile glumes, occasionally with leaf-like blade. Spikelets ± compressed or twisted above with maturity, numerous-flowered. Glumes distichous (upper glumes may appear spiral with maturity by twisting of the rachilla), glabrous, deciduous as the nuts mature. Hypogynous bristles absent. Stamens 3, rarely 1. Style 3-fid, trigonous, slightly pyramidally thickened at base, deciduous from mature nut.
Nut rounded-trigonous, obpyriform or obovoid.
Distribution and occurrence: World: c. 15 species, pantropical. Australia: 7 species (6 species endemic), Qld, N.S.W., W.A., N.T.


Text by K. L. Wilson
Taxon concept:
| | | |
| --- | --- | --- |
| | Key to the species | |
| 1 | Leaves reduced to loose sheaths white or hyaline at mouth; glumes pale red-brown; spikelets often more than 1 per inflorescence | Abildgaardia vaginata |
| | Leaves with well-developed blades 2 cm or more long; glumes whitish to straw-coloured; spikelets rarely more than 1 per inflorescence | Abildgaardia ovata |