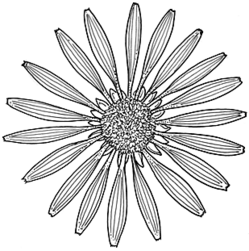 Description: Annual or perennial herbs with white tomentum, glandular hairs sometimes present.
Leaves basal and rosette forming, cauline and alternate, flat, pinnatisect to entire.
Heads broad-campanulate to hemispherical, solitary, axillary, pedunculate; involucral bracts 3–5-seriate, inner with obtuse membranous tips, outer shorter and narrower with scarious margins; receptacle flat, naked, pitted, pits often with fimbriate margins. Ray florets in 1 row, neuter, sterile, ligulate; disc florets tubular, bisexual, fertile, 5-lobed. Anther bases sagittate, apical appendages ovate acute.
Achenes terete, obovoid, ribbed, densely tomentose or glabrous; pappus of minute scarious scales in 1 row, a corona or absent.
Distribution and occurrence: World: 4 species, southern Africa. Australia: 2 species (naturalized), all States.


Text by L. Murray
Taxon concept:
| | | |
| --- | --- | --- |
| | Key to the species | |
| 1 | Leaves deeply lobed and lyrate, green and pubescent above, white tomentose below; disc florets black | Arctotheca calendula |
| | Leaves entire [or slightly lobed], ovate to oblate, white tomentose on both surfaces; disc florets yellow | Arctotheca populifolia |