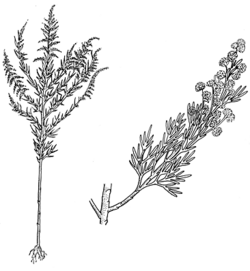 Description: Annual, biennial or perennial herbs or shrubs; aromatic, hairy.
Leaves cauline, alternate, usually pinnately dissected.
Heads in terminal pedunculate panicles, racemes or corymbs; heads hemispherical; involucral bracts 2–4-seriate, imbricate, herbaceous with scarious margin; receptacle flat to hemispherical, scales absent, sometimes hairy. Florets tubular; outer female or bisexual, uniseriate, corolla narrow and ± reduced; inner bisexual or male. Anthers acute at base, apical appendages triangular. Style branches linear, papillose, ± truncate.
Achenes all similar; compressed-obovoid, smooth, faint-striate or 2-ribbed; pappus absent or a small scarious ring.
Distribution and occurrence: World: c. 400 species, Europe, Mediterranean, Asia, southern Africa, North America. Australia: 5 species (naturalized), all mainland States except N.T.


Text by E. A. Brown
Taxon concept:
Taxa not yet included in identification key
Artemisia absinthium
| | | |
| --- | --- | --- |
| | Key to the species | |
| 1 | Leaves densely hairy on upper surface; receptacle hairy | Artemisia arborescens |
| | Leaves usually glabrous on upper surface; receptacle glabrous | Artemisia verlotiorum |