Synonyms: Bramia APNI*
Herpestis APNI*
Hydrotrida APNI*
Macuillamia APNI*
Mella APNI*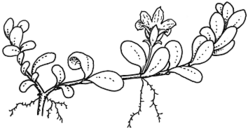 Description: Perennial [or annual] herbs, sometimes aquatic; stems creeping or floating.
Leaves opposite, [sometimes dimorphic], margins entire, sometimes ± palmately veined.
Flowers solitary [or in pairs] in axils of leaves. Sepals fused only at base, dissimilar, 3 outer ones broadest, 2 inner ones narrow. Corolla ± actinomorphic, weakly 2-lipped; upper lip emarginate or 2-lobed, lower lip with 3 subequal segments. Stamens 4, didynamous, included in corolla tube; anthers 2-locular, ± parallel. Stigma with 2 short broad lobes.
Capsule loculicidal and secondarily septifragal (in N.S.W.), 2- or possibly 4-valved, enclosed in calyx; seeds numerous, longitudinally reticulate.
Distribution and occurrence: World: c. 60 species, tropical & warm-temp. zones. Australia: 3 species (2 species native, 1 species naturalized), Qld, N.S.W., N.T., W.A.


Text by W. R. Barker (1992)
Taxon concept:
| | | |
| --- | --- | --- |
| | Key to the species | |
| 1 | Leaves cuneate-oblong to obovate, base attenuate; bracteoles conspicuous, c. 5 mm long; branches glabrous | Bacopa monnieri |
| | Leaves more or less ovate, base cordate; bracteoles obscure, c. 0.5 mm long; branches towards apex sparsely to densely non-glandular hairy | Bacopa caroliniana |