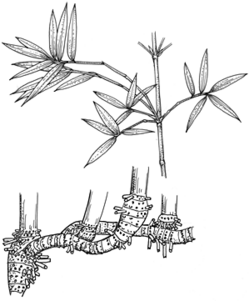 Description: Perennial trees or shrubs, usually in large clumps with a pachymorph rhizome system; culms to 25 m high and 10 cm diam., often arching with age, internodes circular in cross section.
Leaves with sheath usually deciduous; blade short-petioled, venation parallel.
Distribution and occurrence: World: c. 100 species, tropical regions. Australia: 4 species (1 species native, 1 species naturalized), Qld, ?N.S.W., N.T.

Two native species formerly included in Bambusa are now placed in Neololeba and Mullerochloa. B. vulgaris grows in tree-like clumps on the NC and is very widely grown in the tropics for building, paper and edible shoots. B. balcooa is another common large species on the NC, and many varieties of B. multiplex are cultivated.

Text by S. W. L. Jacobs & S. M. Hastings (1993); edited Jacobs, Whalley and Wheeler (2008)
Taxon concept: