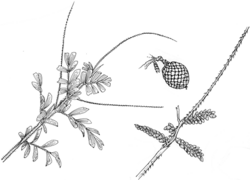 Description: Erect or climbing palms; dioecious; stems cane-like, spiny, with hook-like modifications on the terminal end of the lamina and on the sterile inflorescences for climbing.
Leaves alternate, with hooked spines on the rachis and sheath, lamina pinnate.
Inflorescence in simple panicles. Flowers unisexual. Outer perianth fused, 3-lobed. Male flowers with inner tepals 3; stamen 6. Female flowers with ovary 3-locular, covered with imbricate scales.
Fruit globose, covered with scales, white to yellowish.
Distribution and occurrence: World: 375 species, tropical Africa, Asia., Australia. Australia: 8 species (native), Qld, N.S.W.


Text by A. K. Brooks
Taxon concept:
One species in NSW: Calamus muelleri