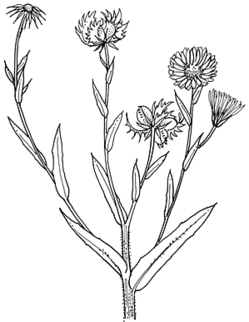 Description: Annual or perennial herbs, ± pubescent, often with glandular hairs.
Leaves alternate, entire to pinnatifid.
Heads terminal in loose corybs or solitary; involucral bracts 1- or 2-seriate, ± equal, free, linear, herbaceous with scarious margins; receptacle flat, naked, pitted. Ray florets female, in 1–3 rows, ligulate, fertile. Disc florets bisexual, innermost functionally male, tubular, 5-merous. Anthers tailed at base, with terminal appendages. Style branches each with 2 stigmatic lines, apically papillate.
Achenes incurved, ridged, tuberculate or spiny on back; outer achenes with or without narrow beak, 2- or 3-winged; inner achenes more strongly incurved, innermost abortive; pappus absent.
Distribution and occurrence: World: c. 20–30 species, Mediterranean region to Iran. Australia: 3 species (naturalized), all States except W.A.


Text by J. A. Scott
Taxon concept:
Key to the species
1
Involucre with 1 row of bracts
Calendula palaestina
Involucre with 2 rows of bracts
2
2
Lower leaves lanceolate to oblong
Calendula arvensis
Lower leaves oblanceolate to spathulate
Back to 1
Calendula officinalis