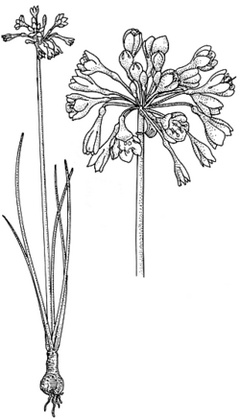 Description: Perennial herbs with bulb; bulb tunicated.
Leaves annual, basal, linear, elongating after flowering.
Inflorescence umbellate, scapose; spathes 2 or 3, narrow-ovate. Flowers actinomorphic, pedicellate. Perianth funnel-shaped; 6-lobed. Stamens 6, inserted at throat of perianth tube, lower part of filaments expanded and united into a corona; corona truncate or lobed between free parts of filaments; anthers versatile, dehiscing by longitudinal slits, introrse. Ovary inferior, 1-locular, globose; ovules 2; placentation parietal; style 1; stigma small.
Fruit a ± globose capsule, rupturing as 'seed' enlarges; 'seed' smooth, green.
Distribution and occurrence: World: 1 species, endemic Australia. Australia: 1 species, endemic.

'Seeds' are apparently bulbils as in Proiphys.

Text by G. J. Harden & N. Frischknecht
Taxon concept:
One species in NSW: Calostemma purpureum