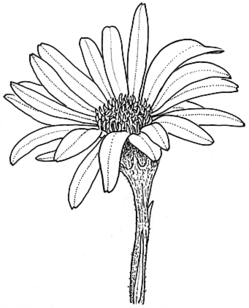 Description: Perennial herbs or subshrubs, often silvery and/or hairy.
Leaves mainly in basal rosette, narrow, entire. Scapes solitary, bracteate.
Heads ± hemispherical; involucral bracts in several series, imbricate, herbaceous with dry or scarious margins; receptacle pitted, scales absent. Ray florets female, usually in one row and white. Disc florets tubular to funnelform, bisexual, 5-toothed, yellow. Anthers with acute or pointed auricles at the base, tails if present very short. Style branches flattened, with apical appendages.
Achenes slightly compressed, ridged; pappus of numerous unequal, barbellate bristles.
Distribution and occurrence: World: c. 70 species, Australia & New Zealand. Australia: 4–10 species (endemic), N.S.W., Vic., Tas.


Text by E. A. Brown
Taxon concept:
Key to the species
1
Achenes glabrous;scapes up to 60 cm high
Celmisia longifolia
Achenes hairy; scapes less than 50 cm high
2
2
Tufted herb with thin spreading scaly rhizomes
Celmisia tomentella
Rootstock more or less woody, thin scaly rhizomes absent
Back to 1
3
3
Short and more or less woolly tomentum on the leaf underside, the raised rib conspicuous
Celmisia costiniana
Long and woolly tomentum which fills the cavity of the underside of the leaf usually obscuring the raised midrib
Back to 2
Celmisia pugioniformis