Common Name: Sour Bushes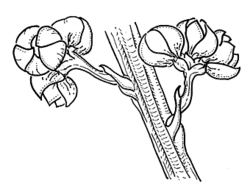 Description: Glabrous shrubs or small trees; branches ± striate with decurrent ridges below leaf scars.
Leaves alternate, scale-like, early caducous.
Flowers bisexual, minute, axillary, solitary or clustered; bracteoles 2 or more per flower. Tepals 5, thick and incurved distally. Staminal filaments very short, sometimes with small appendages. Disc shortly lobed, cup-shaped. Ovary inferior; stigma entire or obscurely lobed.
Fruit globose to ovoid, drupaceous (finally dry), crowned by the persistent tepals.
Distribution and occurrence: World: 6 or more spp., endemic Aust., Qld, N.S.W., Vic. S.A., W.A.


Text by B. Wiecek
Taxon concept:
Taxa not yet included in identification key
Choretrum sp. Coxs Gap (B.J.Lepschi 4218 & T.R.Lally)
Key to the species
1
Flowers in clusters of 2–5
Choretrum glomeratum
Flowers solitary
2
2
Branches angular, more or less striate; stamens without hair-like appendages
3
Branches terete, smooth or slightly striate; stamens with hair-like appendages
Back to 1
Choretrum pauciflorum
3
Branches moderately angular, sharply ridged below leaf scars; leaves persistent; fruits dark when mature
Choretrum candollei
Branches strongly angular, broadly ridged below leaf scars; leaves early deciduous; fruits pale when mature
Back to 2
Choretrum sp. Coxs Gap (B.J.Lepschi 4218 & T.R.Lally) Lepschi