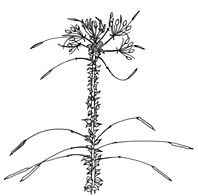 Description: Annual or perennial herbs, glandular-pubescent, glabrous.
Leaves mostly palmately compound with 3–7 leaflets, rarely simple.
Inflorescence mostly terminal, a dense raceme; lower bracts leaf-like, reduced above. Sepals free. Petals with or without claws. Stamens 1–30, sometimes fused at base and united to gynophore. Gland present on receptacle, variable in shape. Gynophore usually present; ovary 1-locular.
Capsule opening by 2 valves, leaving the persistent frame-like replum.
Distribution and occurrence: World: c. 150 species, tropical & subtropical regions. Australia: 10 species (6 species endemic), all mainland States except Vic.


Text by G. J. Harden
Taxon concept:
Key to the species
1
Leaves palmately compound with 3–7 leaflets
2
Leaves simple
Cleome monophylla
2
Stipules absent; capsule glandular-pubescent
Cleome viscosa
Stipules spinescent; capsule glabrous
Back to 1
Cleome hassleriana