| | |
| --- | --- |
| Genus Dactyloctenium | Family Poaceae |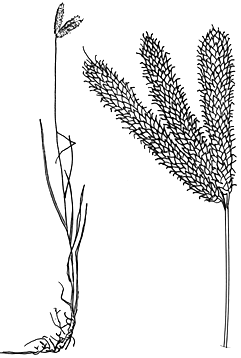 Description: Short, spreading, tufted annuals or stoloniferous perennials.
Leaves with ligule membranous, short, sometimes a ciliate rim; blade folded in bud, flat, often with tubercle-based hairs on margins.
Inflorescence digitate with 2–6 erect or spreading short, thick spikes, the rachis projecting as a spine beyond the spikelets.
Spikelets solitary, sessile and closely overlapping in 2 close rows on 1 side of the flattened rachis; rachilla tardily disarticulating above the glumes; florets 2–6, bisexual. Glumes unequal, broad, 1-nerved, strongly keeled, shorter than the florets; the lower persistent, ovate, acute, thin; the upper not persistent, firm, obtuse, mucronate or short-awned below the tip. Lemmas firm, ovate, broad, keeled, 3-nerved, acuminate or short-awned. Paleas about as long as the lemmas, 2-keeled.
Distribution and occurrence: World: c. 10 species, mainly warm regions of Africa & India. Australia: 4 species (1 species native, 3 species naturalized), all mainland States.

Stoloniferous species are used as lawn grasses and/or soil stabilizers.

Text by S. W. L. Jacobs & S. M. Hastings
Taxon concept:
Key to the species
1
Stoloniferous long-lived perennial; spikes 2–5, each 2–4 cm long
Dactyloctenium australe
Tufted annuals or short-lived perennials, sometimes rooting from the lower nodes; spikes 2-many, 0.5–5 cm long
2
2
Spikes 3–10, each 0.5–1.5 cm long; spikelets crowded and touching those of adjacent spikes
Dactyloctenium radulans
Spikes 2–4, each 1–5 cm long, only the lowest spikelets of the spikes touching as the spikes radiate freely
Back to 1
Dactyloctenium aegyptium