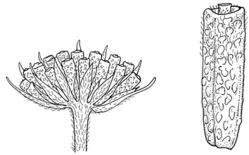 Description: Annual or perennial herbs.
Leaves opposite, entire to toothed.
Heads campanulate or hemispherical, pedunculate, solitary or in pairs in upper leaf axils; involucral bracts 2-seriate, ± equal, herbaceous, longer than the disc florets; receptacle scales present. Ray florets in several series, female or sterile; ligules narrow, entire or 2-toothed, white; style shortly bifid, smooth, blunt. Disc florets bisexual, tubular-campanulate, 4–5-toothed, usually fertile; style oblong, apex triangular. Anthers with rounded apical appendages, base obtuse.
Achenes slightly dimorphic, oblong, tuberculate, marginal ones ± triangular, others 4-angled; pappus with short, entire or toothed crown, 2 short awns or absent.
Distribution and occurrence: World: 3 or 4 species, tropical regions. Australia: 2 species (endemic), Qld, N.S.W., N.T., S.A., W.A.


Text by L. Murray
Taxon concept:
| | | |
| --- | --- | --- |
| | Key to the species | |
| 1 | Heads campanulate, rays yellow; leaves entire | Eclipta platyglossa |
| | Heads hemispherical, rays white; leaves more or less entire to toothed | Eclipta prostrata |