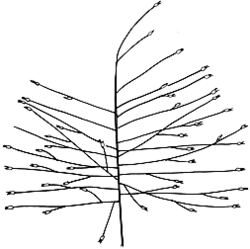 Description: Tufted perennials with culms often producing leafy shoots at the nodes.
Leaves with ligule membranous; blade rolled in bud, smooth or slightly rough, rounded at the base.
Inflorescence an open panicle, primary branches with spreading secondary branches or with spikelets appressed to the rachis; spikelet-bearing branches terminating in a spikelet.
Spikelets laterally compressed to dorsiventrally compressed, falling entire. Florets 2, the lower sterile, the upper bisexual. Glumes 7-nerved, the lower hairless, the upper distinctly keeled or rounded on the back. Lower lemma c. as long as the upper glume; upper lemma smooth, rounded on the back, muticous or mucronate; the margins flat but not noticeably thinner than the body, partly enclosing the palea.
Distribution and occurrence: World: 2 species, endemic Australia. Australia: Qld, N.S.W., Vic., S.A.


Text by S. W. L. Jacobs & C. A. Wall
Taxon concept:
| | | |
| --- | --- | --- |
| | Key to the species | |
| 1 | Spikelets 4.8–8.0 mm long; lower lemma strigose between the nerves; plants stoloniferous; inflorescence with 2–4 spikelets on a lowermost primary branch | Homopholis belsonii |
| | Spikelets 3–3.8 mm long; lower lemma glabrous; plants lacking stolons; inflorescence with 6–35 spikelets on a lowermost primary branch | Homopholis proluta |