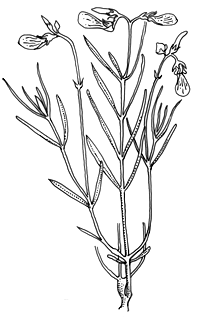 Description: Perennial herbs or shrubs, sometimes creeping, stems slender, ± wiry.
Leaves alternate, sometimes clustered, rarely opposite, margins entire to toothed; sessile or shortly petiolate; stipules present or absent.
Inflorescence usually axillary, cymes or racemes, or flowers solitary. Sepals unequal, linear to ovate. Petals unequal, lower petal longer than others, spurred and clawed, upper pair linear, lateral pair wider. Stamens on short filaments; anthers free but cohering by narrow wings, often with appendages; anterior anthers with basal nectaries. Ovary globose, ovules 3–15; style S-shaped, stigma expanded.
Fruit a capsule.
Distribution and occurrence: World: c. 150 species, tropical & subtropical regions. Australia: 11 species, all mainland States.


Text by T. A. James
Taxon concept:
Key to the species
1
Flowers in cymes or racemes
2
Flowers solitary
3
2
Inflorescence usually 10–20 cm long, much exceeding leaves; flowers well-spaced; lamina 0.5–9 cm long
Hybanthus monopetalus
Inflorescence usually shortly exceeding the leaves; flowers more or less crowded; lamina 0.5–3.5 cm long
Back to 1
Hybanthus floribundus
3
Lower petal 4–8 mm long
Hybanthus floribundus
Lower petal 8–15 mm long
Back to 1
4
4
Petals blue-mauve; margins of leaves revolute or recurved
5
Petals orange or yellow; margins of lamina recurved to flat
Back to 3
Hybanthus stellarioides
5
Lateral petals lanceolate-falcate, 4.5–5 mm long
Hybanthus enneaspermus
Lateral petals broad-oblong, 1.5–3 mm long
Back to 4
Hybanthus vernonii