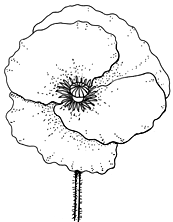 Description: Annual, biennial or perennial herbs, latex frequently colourless.
Leaves forming a basal rosette when young, alternate on stems.
Flowers solitary, on long peduncles; buds drooping. Sepals 2, shed early. Petals 4. Ovary 1-locular; carpels several; stigmas several, sessile, in radial rows on a disc on top of the ovary.
Capsule dehiscing by pores; seeds numerous.
Distribution and occurrence: World: c. 100 species, cosmopolitan. Australia: c. 6 species (c. 5 species naturalised, 1 species doubtfully native), all States.


Text by S.W.L. Jacobs
Taxon concept:
Key to the species
1
Capsule with numerous bristles
2
Capsule glabrous
3
2
Capsule 10–12.5 mm long, 10–15 mm diam., subglobose to ovoid
Papaver hybridum
Capsule 15–20 mm long, 3–5 mm diam., oblong
Back to 1
Papaver argemone
3
Capsule at least twice as long as broad, 6–8 mm diam
4
Capsule no more than twice as long as broad, 10 mm or more diam
Back to 1
5
4
Capsule c. 15 mm long, with 4–8 stigmatic rays
Papaver aculeatum
Capsule 15–25 mm long, with 6–10 stigmatic rays
Back to 3
Papaver dubium
5
Stem leaves sessile, clasping stem
Papaver somniferum
Stem leaves shortly petiolate, petiole usually winged
Back to 3
Papaver rhoeas