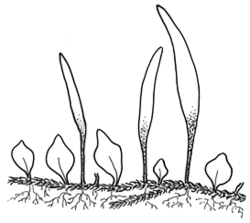 Description: Epiphytic or growing on rocks; rhizome creeping or densely covered with non-clathrate scales that are usually peltately attached.
Stipes articulated to the rhizome; lamina usually simple and entire, thick and leathery, surfaces covered with stellate hairs; fertile fronds similar to the sterile fronds or dimorphic; veins reticulate to obscure.
Sori without indusium, usually circular, mostly confluent with age.
Distribution and occurrence: World: c. 50 species, mainly tropical Asia & Malesia, extending to Africa, temperate Asia & Australia, New Zealand. Australia: 4 species, Qld, N.S.W.


Text by Peter G. Wilson
Taxon concept:
| | | |
| --- | --- | --- |
| | Key to the species | |
| 1 | Sori occurring over most of the lower surface of the lamina of the fertile frond, irregularly arranged in 1–4 rows on each side of the midrib, ± confluent with age | Pyrrosia rupestris |
| | Sori restricted to the apical region of the fertile frond, confluent and forming two oblong or ovate patches or a single horseshoe-shaped patch | Pyrrosia confluens |