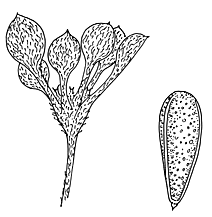 Description: Small annual herbs, softly white woolly, with prostrate to ascending stems.
Leaves mostly cauline, alternate; lamina spathulate, circular to broad-obovate, margins mostly entire, petiolate.
Heads minute, sessile in crowded clusters, surrounded by a general involucre of leaves; involucral bracts imbricate in several rows, scarious, unequal, with rigid recurved or hooked apices; receptacle minute, naked. Ray florets absent; outer disc florets few, female, fertile, filiform, contracted at the apex; inner disc florets few, bisexual, fertile, tubular, 5-toothed. Anthers tailed at the base. Style branches of outer florets subulate, of inner florets truncate.
Achenes terete, papillose; pappus absent.
Distribution and occurrence: World: 2 species, endemic Australia. Australia: Qld, Vic., S.A.


Text by M. F. Porteners
Taxon concept:
| | | |
| --- | --- | --- |
| | Key to the species | |
| 1 | Apices of inner involucral bracts with rigid pale yellow hooked awns, extending from the midrib. Inflorescences all terminal | Stuartina hamata |
| | Apices of inner involucral bracts shortly acuminate, recurved, brownish, not extending from the midrib. Inflorescences terminal and axillary | Stuartina muelleri |