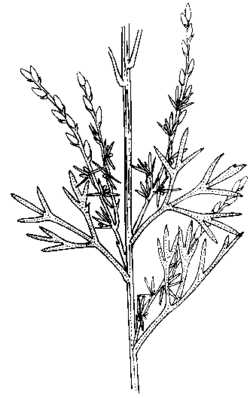 Description: Erect or spreading subshrubs, often multi-stemmed, sometimes herbaceous, ± glabrous.
Leaves alternate or opposite, divided into few to many narrow segments, or sometimes leaves entire below inflorescences.
Inflorescences narrow, spike-like, terminal or in the upper axils, often paniculate. Flowers actinomorphic, each subtended by a small bract. Tepals narrow, ± equal, spreading. Hypogynous glands absent. Stamens 4, filaments incurved and united at the top to form a ring around the style, anthers erect, free. Ovary shortly stipitate; ovules 2, pendent; style filiform, exceeding the anthers, slightly dilated apically.
Fruit a nut, glabrous, usually 1-seeded, ± sessile, subtended by a ± persistent bract.
Distribution and occurrence: World: 2 species, endemic Australia. Australia: N.S.W.


Text by G. J. Harden
Taxon concept:
| | | |
| --- | --- | --- |
| | Key to the species | |
| 1 | Segments of divided leaves and entire leaves flat, linear to lanceolate, 2–3 mm wide, midvein distinct; leaves 20–40 mm long | Symphionema montanum |
| | Segments of divided leaves and entire leaves usually more or less terete, 1–1.5 mm wide, midvein obscure; leaves 10–30 mm long | Symphionema paludosum |