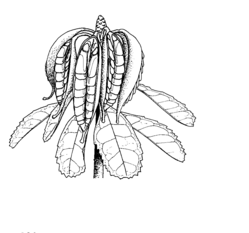 Description: Shrubs or rarely small trees, usually multistemmed from a lignotuber. Adult leaves simple, margins entire or toothed; intermediate leaves simple with margins sinuate- to pinnate-lobed. Conflorescences terminal, capitate, subtended by red to pink involucral bracts, not aggregated, pseudo-racemose; flowers borne in pairs.
Flowers zygomorphic, usually red, bird-pollinated. Perianth strongly incurved in bud; tepals cohering in a split tube after anthesis [separating in T. truncata]. Hypogynous glands fused into a crescentic to horseshoe-shaped nectary. Ovary stipitate; pollen presenter strongly oblique.
Follicle woody; seeds winged.
Distribution and occurrence: World: 5 species, endemic Australia. Australia: N.S.W., Vic., Tas.

Waratahs are widely cultivated as ornamentals and for the cut flower trade. In some instances white- and yellow-flowered forms have been selected for cultivation.

Text by M. D. Crisp & P. H. Weston
Taxon concept:
Key to the species
1
Leaves mostly with toothed margins, veins prominently raised on upper surface; involucral bracts conspicuous
2
Leaves not toothed, veins not or slightly raised on upper surface; involucral bracts inconspicuous
3
2
Adult leaves narrow-obovate to narrow-spathulate, margins with 0–3 pairs of teeth in lower half, glabrous or rarely lower surface moderately rusty-hairy on lower surface (usually with less than 35 hairs per mm2); south from the Watagan Mtns
Telopea speciosissima
Adult leaves elliptic to more or less obovate, margins usually with 3–11 pairs of teeth in lower half, lower surface moderately to densely rusty-hairy (usually with more than 35 hairs per mm2); confined to Gibraltar Ra
Back to 1
Telopea aspera
3
Adult leaves mostly 25–60 mm wide, surfaces minutely granulate when dried
Telopea oreades
Adult leaves mostly 10–20 mm wide, surfaces quite smooth between veins when dried
Back to 1
Telopea mongaensis