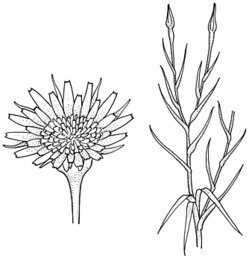 Description: Annual, biennial or perennial herbs with a taproot; stems terete, robust, usually solitary, simple or sparsely branched.
Leaves linear to lanceolate, basal and cauline, alternate, sessile, entire, narrow, parallel-veined.
Heads pedunculate, solitary or few in a loosely branched terminal inflorescence, cylindrical to spreading; involucral bracts in 1 row, narrow-lanceolate, free, equal, elongating in fruit; receptacle convex, naked, pitted. Florets all ligulate, bisexual, fertile, linear.
Achenes fusiform, ribbed with 5–10 ± distinct ribs, tapering into a filiform beak ending in a small disc, outer often muricate; pappus in 2 rows, of free plumose bristles, outer row rarely scale-like.
Distribution and occurrence: World: c. 50 species, temperate Europe, Asia & Africa. Australia: 2 species (naturalized), all States except N.T.


Text by L. Murray
Taxon concept:
| | | |
| --- | --- | --- |
| | Key to the species | |
| 1 | Outer ray florets yellow; involucral bracts 8–12; naturalized only on ST | Tragopogon dubius |
| | Outer ray florets purple; involucral bracts usually 8; widespread from coast to inland districts | Tragopogon porrifolius |