Synonyms: Uldinia APNI*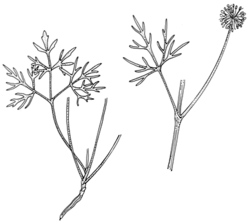 Description: Annual, biennial, perennial or ephemeral herbs with slender taproot or stouter rootstock; stems erect glabrous or sparsely hairy, sometimes ± striate.
Leaves basal or cauline, simple or ternately dissected, petiolate, exstipulate. Inflorescence a terminal or leaf-opposed simple umbel; bracts in a single whorl, shortly united at the base.
Flowers bisexual or unisexual, white, pink, purple or blue. Sepals minute or absent. Petals elliptic to orbicular, midrib flat or keeled. Ovaries unilocular or 2-locular.
Fruit orbicular or semicircular; consisting of one or two mericarps, sometimes one not developed to maturity; laterally flattened; with abaxial wing or wingless, smooth, papilose, tuberculate or hairy. Carpophores entire to 2-fid to their base.
Distribution and occurrence: World: 55 spp., Aust., Malesia, N.Cal., Fiji. Aust: 38 spp. (37 spp. endemic), all states.

Formerly in Apiaceae.

Text by J.M. Hart
Taxon concept: J.M. Hart, 2002