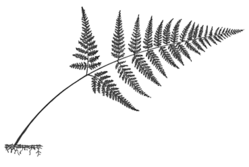 Description: Rhizome long-creeping, slender, covered with brown or reddish, simple or sometimes glandular hairs.
Fronds erect, narrow- to broad-triangular, 2-pinnate or more compound, usually covered with short bristly or gland-tipped hairs.
Sori ± circular, marginal and terminal on a vein to submarginal and not quite terminal on a vein; indusium if present false, a reflexed or partially reflexed flap of the lamina at least partly covering marginal sori, or sometimes sori further from the margin and unprotected.
Distribution and occurrence: World: 40–45 species, chiefly tropical & southern temperate regions. Australia: 8 species, Qld, N.S.W., Vic., Tas.


Text by Peter G. Wilson
Taxon concept:
Key to the species
1
Veins ending at the lamina margin in a distinct notch
Hypolepis distans
Veins either not reaching the lamina margin, or ending at the lamina margin at the apex of a tooth or lobe
2
2
Sori ± covered by an indusium: indusium obvious, false, at least partly colourless and membranous
Hypolepis elegans
Sori partly covered by indusium or unprotected: indusium if present marginal, false and green or sori originating away from margin and unprotected (check immature sorus)
Back to 1
3
3
Secondary rachises bearing stiff, non-glandular, septate hairs that are usually curved towards the tip of the rachis; sori with short hairs amongst the sporangia
Hypolepis muelleri
Secondary rachises bearing conspicuous, crisped hairs, some with glandular apices; sori lacking hairs
Back to 2
4
4
Stipes brown to orange; primary rachis brown, yellowish or orange-red
Hypolepis glandulifera
Stipes and rachises deep red-brown
Back to 3
5
5
Fronds with lamina broad-triangular, 35–115 cm long and 20–60 cm wide; rachises with few, coarse hairs and relatively large tubercles
Hypolepis rugosula
Fronds with lamina narrow-triangular, 15–55 cm long and 10–35 cm wide; rachises with numerous, short hairs and small tubercles
Back to 4
Hypolepis amaurorachis