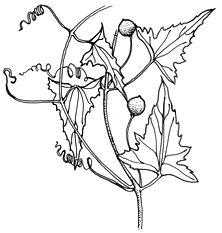 Description: Small climbers, usually annual; monoecious.
Leaves simple palminerved.
Flowers small, c. 5 mm diam., white; sepals minute, narrowly elliptic or linear, usually recurved; petals free, (narrowly) elliptic, usually valvate in bud; receptacle-tube campanulate. Male inflorescences consisting of 1–4(–8) long-pedicelled flower(s) at the node, usually co-axillary with 1 or 2 long-pedicelled female flowers.
Fruit 1 or 2, usually with long fruiting pedicel, globose, ellipsoid, narrowly ellipsoid or fusiform, 0.5–7 cm long, apex beaked or not, glabrous, pink-white or red, juicy or pulpy; dry pericarp membranous or cartilaginous, smooth or minutely pustulate. Seeds few or numerous, compressed, ovate-elliptic, faces little convex, pale, not sculptured, margin absent or obscure, with rounded edge, base without or with short wing.
Distribution and occurrence: A genus of c. 30 species distributed in the tropics of the Old World: Africa, Madagascar, and in SE Asia from India, China, Japan south-east through Malesia, and east to Australia and the Pacific; c. 20 species in Asia, Malesia and the Pacific, 1 species in Australia.


Text by Louisa Murray
Taxon concept: W.J.J.O. de Wilde & B.E.E. Duyfjes (2006) Redefinition of Zehneria. Blumea Volume 51, No. 1, p 12.