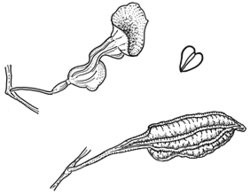 Description: Woody climbers with young branches ± glabrous to rusty-pubescent.
Leaves sometimes 3-veined from base, fine venation conspicuous, raised on both surfaces; petiole thickened and twisted, with base expanded into a horizontal ridge extending around the stem.
Flowers borne mostly on the old wood. . Tubular calyx regularly 3-lobed or irregular with 1 or 3 long tails from the mouth of the limb. Anthers 6–24. Stigmatic lobes 6–12.
Capsule indehiscent, short, strongly ribbed; seeds numerous.
Distribution and occurrence: World: c. 30 spp., Old World trops. Aust.: 12 spp. (endemic), Qld, N.S.W., N.T., W.A.


Text by G. J. Harden
Taxon concept:
| | | |
| --- | --- | --- |
| | Key to the species | |
| 1 | Leaves mostly 10–20 cm long, ovate to elliptic, base cordate or rounded, brown hairs scattered on veins on lower surface | Pararistolochia praevenosa |
| | Leaves usually 5–10 cm long, lanceolate to narrow-elliptic, base ± truncate to slightly cordate, glabrous | Pararistolochia laheyana |